Service please!
Explore the history of the Barnsley British Co-operative Society
From the opening of the first store in 1862 to the boom years of the 1950s, the Barnsley Co-op remained at the heart of the community. Many people have fond memories of their time spent working for, and shopping at, the Barnsley Co-op.
Through a Heritage Lottery Funded project, staff and volunteers have researched a large selection of shops across Barnsley and parts of South & West Yorkshire. Explore the history of a selection of branch stores on the link below.
If you would like to find out more you can visit Barnsley Archives and Local Studies in the Town Hall or email archives@barnsley.gov.uk
We would like to thank the National Co-operative Archive for permission to use historic images of shops on this site.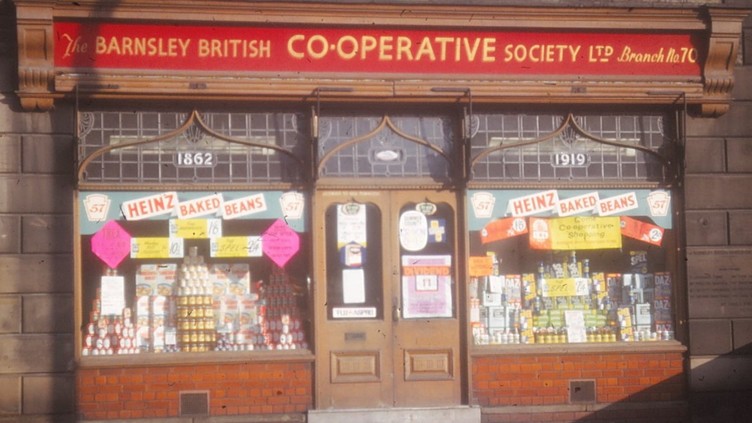 Listen to memories of the Barnsley British Co-operative Society
From the wallpaper department to the check office, and from Royston to Darfield, there are many stories to tell about the Barnsley British Co-op. Listen below to people's memories about working and shopping across the borough.
Copyright: Barnsley Museums
Search the collections
The catalogues for the local co-operative societies are available to view on our online catalogue. Please see the links below. If you would like to view any items from the collections, please make a note of the title and reference number and contact archives@barnsley.gov.uk to arrange an appointment.
Revisit our exhibition
An exhibition was created to enable people to learn about the history of the company. Objects were donated and loaned by local people and displayed alongside the recently catalogued archive collections. We loved preparing the Co-op exhibition and were so pleased that over 8,200 people visited during its time in Experience Barnsley! For those of you who were unable to visit or want to see it again we have a slide show of images for you to enjoy and reminisce.
Barnsley Co-op delivery bicycle (loaned from Rochdale Pioneers' Museum)

Exhibition case including a comptometer (adding machine)

Examples of Barnsley Co-op tea labels

Children play 'shops' in our exhibition

Case containing examples from the Barnsley Co-operative Operatic Society

Recreation of the 'Coral Room' in the Arcadian restaurant

Case containing brushes from the clothing departments

General view of the exhibition

Barnsley Co-op timeline and exhibition cases
Find out more
We have created a number of other resources for you to enjoy below. From downloading a Barnsley town centre walking tour, reading our blog or trying your hand at reading an original Co-op meeting minute book from the 19th Century, there's something for all Barnsley Co-op enthuasiasts to enjoy! Also available is our publication 'A-Z of the Barnsley Co-op' which was specially produced for carers to be used as a reminscience book, but can also be used as a learning tool.